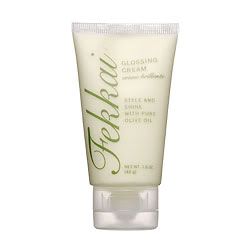 I have thick wavy/curly hair. I always straighten it. I put this on my hair when it's damp. Then I let it air dry, then straighten it.
I only use about a pea size, it's really all you need. Any more and it will make your hair look greasy. It leaves my hair soft and shiny. I also LOVE the way it smells!
I'll most likely buy this again, probably not for awhile though because this is going to last a long time because you use so little.
You can find this 1.6oz at Sephora for $9.