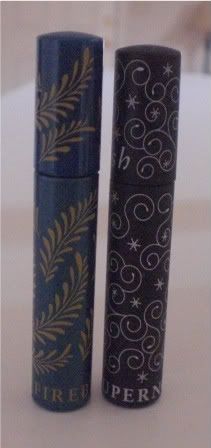 So I picked up this little mascara duo because I had been hearing lots of good things about them. I was excited to try them out. These came together in a set from Sephora for $10.
I was a Little disappointed in these mascaras. I used them together and alone.
When I used them alone they didn't really do much for my lashes. When I used them together they did make my lashes a little fuller/thicker, nothing really amazing though.
I don't have sensitive eyes. I have never really had a problem with mascaras irritating my eyes, but these did. They made my eyes itchy.
I didn't have any problems with flaking, so that was good.
Overall I wouldn't really recommend these, but if you have to try them I suggest picking up the set with the small sizes from Sephora.
Don't forget to Please Subscribe and comment! It would make me SOO Happy! :-)