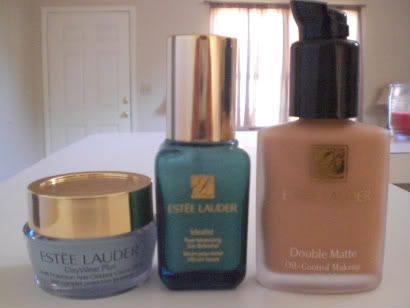 I was checking out Estee Lauder foundations. I decided to try out Double Matte Oil control makeup SPF 15 because I have really oily skin.
I was talking with the lady at the counter and she was asking me about my skin and what my problems were with the makeup I had been using.
I told her that I have oily skin, and that because I get oily my makeup doesn't last as long as I would like it to.
She suggested with the foundation that I should use DayWear Plus moisturizer and Idealist Pore Minimizing Skin Refinisher, so she gave me samples of those.
Now I have used a lot of other primers like Smashbox, Laura Geller, Bare Escentuals, Philosophy, MAC, the monistat stuff and they were all just ok for me, nothing GREAT.
She told me to use the Idealist after my moisturizer as a primer.
I just thought it would be just like everything else I've tried but I was VERY suprised at how well this worked out for me. I went back and bought full sizes of the DayWear Plus and Idealist.
I have been using all three together since then and I LOVE them!
In the past I have always had to touch up about two hours after I've done my makeup and I hate that.
Since I have been using these three products I find that I don't really have to touch up at all.
The moisturizer is really nice. I love the way it smells!
The Idealist is great. I like the packaging. It's a bit pricy, but I think it's worth it.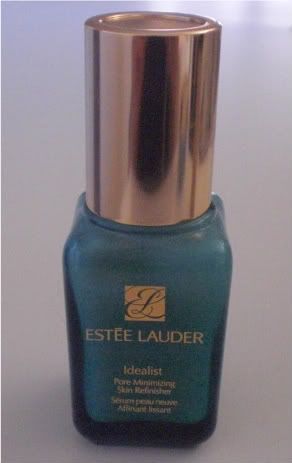 As for the Idealist I don't really see my pores minimized. I read online that it says to use it BEFORE moisturizer, but I'm using it as a primer like the lady suggested. I havn't tried using it before, so I don't know if it would minimize pores like it says, but I'm happy with it as a primer.
Now the foundation I really like it as well, but my only minor problem with it is that it doesn't have a pump, so I just bought a MAC pump for it and it fit.
Overall these are working out great for me. :-)
Products can be found at http://www.esteelauder.com/
DayWear Plus ~ $38.50
Idealist ~ $46.50, 1oz
Double Matte ~ $33.50
Also I just noticed that today they are giving free shipping on any order $25 or more, offer ends today 11:59pm Eastern Time. No code required.