So a Sephora just opened up a few months ago in the city I live in, which I am so happy about! We didn't have one before. Well now that this one is open I have been able to try out lots of new products.
When you go to check out at my Sephora they have these stands with travel sizes of lots of different prodcuts. I think this is great because if you have been wanting to try something that is a little pricy or your just not sure its going to work for you and you dont want to spend the full amount on it you can try some of these mini versions for a lesser amount. If you like it you can always buy the full size later.
I had been wanting to try these products for awhile. I got Philosophy Purity Made Simple, Frederic Fekkai Glossing Cream, and Fresh Firebird and Supernova mascaras.
Philosophy Purity Made Simple ~ $10, 3oz.
Fekkai Glossing Cream ~ $9, 1.6oz.
Fresh Mascara Duo ~ $10, 0.067oz. in each one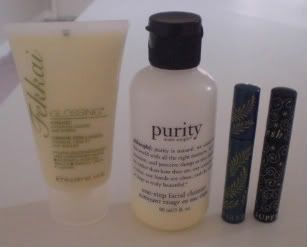 They all fit in the palm of my hand. So cute!
I think this is just an excellent way to try new things! Really great for traveling. I'll be taking these to IMATS with me in a couple weeks!
So if your in Sephora check out all the travel sizes, you might find something you've been wanting to try.
Reviews on these will be coming up.
:-)