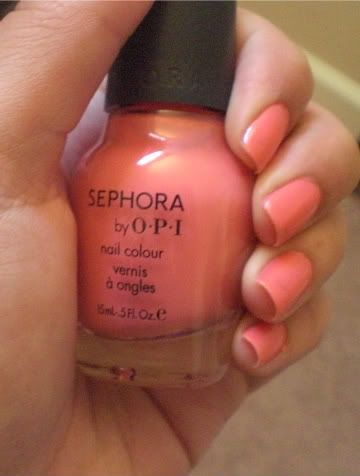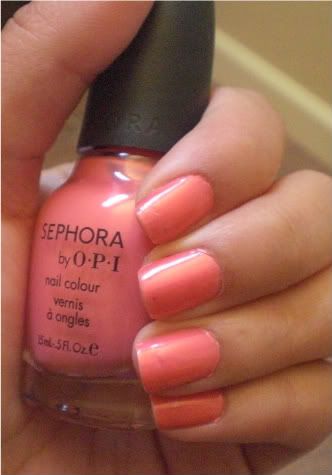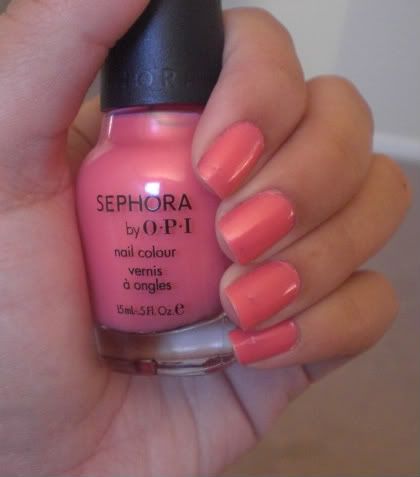 Excuse my cuticles, I really need to get a manicure. :-/
Me and my Mom went to Sephora on Thursday. Our Sephora just opened up a few months back and she hadn't been there yet, so I took her to check it out.
I only got one thing while I was there. I got a Sephora by OPI nail Polish in How Cute is That?. This is my first time trying these Sephora by OPI nail polishes.
I love the color of this polish. It's the color I've been looking for. It's a pretty coral/pink color. Perfect for summer.
It has a slight shimmer to it, but you can only really see the shimmer if your in the sun. Indoors it just looks like a cream.
The first coat is a little streaky, but the second coat evens the color all out.
I've had it on for three days already and it hasn't chipped yet. I do have a base coat and a top coat on as well.
These polishes can be found at your Sephora store and Sephora.com for $9
I do believe it's out of stock online at the moment.
Overall I love this color! It's so pretty! If you have a Sephora near you check it out.