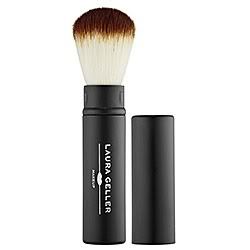 I mentioned this brush in one of my first posts how it was my favorite brush to use with the Chanel Bronze Universel.
I have used this brush for so MANY things. I LOVE THIS BRUSH! I got this brush because I got a kit from QVC. For awhile that was the only way to get it through QVC. You couldn't buy the brush on it's own, BUT now it is being sold at Sephora.
I can not tell you enough how much I love this brush. It's probably my favorite brush EVER. I have every single MAC brush. I love brushes. I collect brushes, but this has to be my favorite. It's a synthetic brush. You can use it for so many different things. The ways I have used it are for powder, powder foundation, blush, cream blush, concealer, and my favorite way for liquid foundation.
I have had this brush for a long time and since I have had it I have always used it to put on my liquid foundation. Because it is retractable you can adjust how dense you want the brush, which enables the kind of coverage you want.
I have used other retractable brushes but they don't compare to this one. It's really soft and gives you a nice airbrushed look. I know everyone seems to love the MAC 187 or MAC 109 for liquid foundation, but those just don't do it for me. This Laura Geller brush is the brush for me. It is amazing!
I would HIGHLY recommend this brush! This brush can now be found on Sephora.com for $15, which I think is a great deal for such a great brush.