As you may have already read, I attended the IMATS last month. While I was there I stopped by the Senna Cosmetics stand. They were selling these palettes called Envelopes. In each Envelope (palette) there is 16 eye shadows, six blushes, and two powders. Each palette was $50. I thought that was a pretty good deal for all you were getting. They had different Envelopes to choose from. I decided to try one so I got the Brights Envelope.
After coming home and using it I fell in love with it and I wished I would have got them all. So I decided to check out the website. They only had one Envelope on the website called the Glamour Envelope but it was $99. They didn't have this one at the IMATS and they had it priced up to $99. I didn't really want to pay that since I got a better deal at IMATS so I didn't order it.
Well I kept thinking about it and wanted it really bad because I loved my Brights palette so I thought I'll just go ahead and order it. I go back to the site a few days later and to my surprise they have ALL the Envelopes on there now for $50 each! I was so happy to see this, so I ordered the other three.
These eye shadows and blushes are really nice. They are really pigmented and blend easily. The shadows are the same size as MAC shadows. The blushes are a little smaller.
These would be really great for freelance work or just for travel. The neutral would be really great for weddings.
Brights
Pastel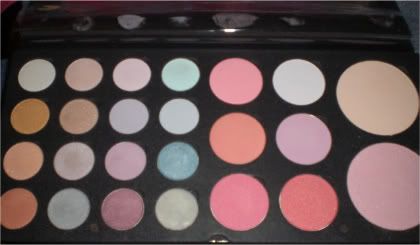 Neutral
Glamour
All of them have a big mirror inside. They all have this plastic cover to keep the mirror from getting dirty.
A few different swatches from each palette with no base.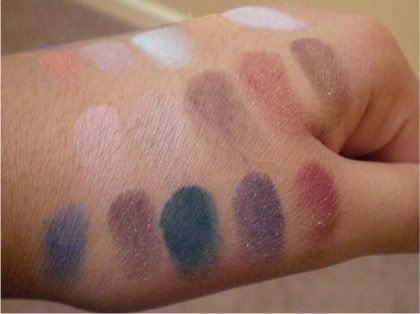 These Envelopes can be found at Sennacosmetics.com. They are $50 each. Also for the whole month of July you get FREE Shipping with ANY purchase. I ordered my three envelopes on Thursday and got them Monday (yesterday), that was fast! They also sent some skincare samples so that was nice.
Overall I really love these and if you wanted to get just one I would go for the Glamour Envelope. It's beautiful!